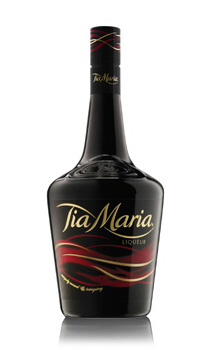 Oh, Aunt Maria. (See, I do remember some Spanish.)
TASTE
Yum. Tastes like a vanilla coffee with a hint of rum in it.
STRENGTH
26.5% (another one of those pesky 5 and % combinations) alcohol by volume. An ounce in the space of 15 minutes does not appear to have done anything but knock me on my ass marveling at the great taste. After about 30 minutes, I feel a tad bit sleepy.
(Just out of curiousity, does anyone else feel slightly fancy-shmancy saying liqueur? "Lick-ooo-er".) I suppose this isn't really suppose to be a beverage you drink straight - usually found as an addition in cocktails, coffees, or desserts instead. However, I have a feeling it might also taste good in some eggnog/whole milk over ice. It did make my Diet Coke taste like Diet Vanilla Coffee Coke, though. No complaints, Aunt Maria, no complaints.
SUMMARY
TASTE: *****
STRENGTH: *
TOTAL
: ***
It is what it is. I think you'd probably have to drink near a whole bottle to really feel anything resembling having a couple shots, but, again, that's not quite what it's meant for, now is it.